Attention: You cannot use an external link to download this file but you are invited to point to this page.
Key Benefits Videos Price Download What's new Requirements
Get updated M.I.S. news about our products on the Blog
Current version: 1.7.0 (2009-05-17)
Beta version: none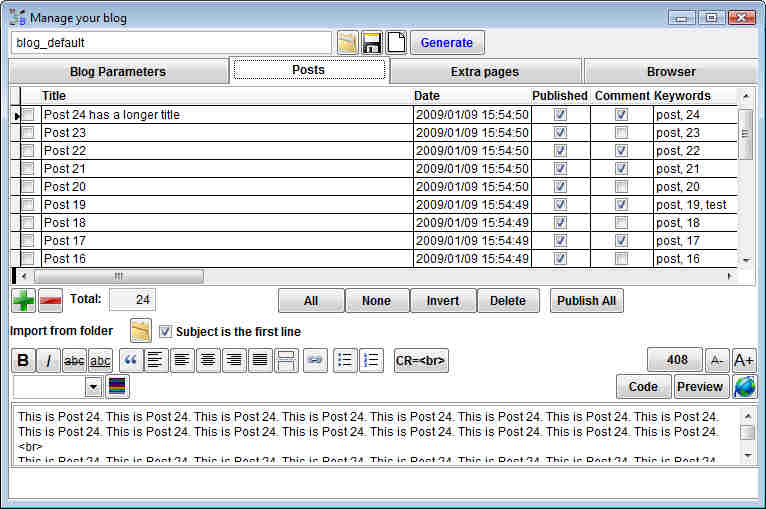 MyStarterBlog(MSB) is a simple online/offline content management system(CMS) with a focus to help you make money online.
Many bloggers are using online CMS for their main blog. It's okay since we do the same ourself. But sometimes, a blogger don't want to deal with security issues, create a database, update plugins, deal with comments spammers... on a secondary blog. MSB can also be used for someone new to blogging but not ready to invest too much time to deal with a CMS. Or, a blogger could decide to split part of a main blog by creating a secondary blog.
That's where MSB comes in. With MSB, you write posts and let MSB generate the blog for you. Instead of uploading 4-5MB(first time or with updates) when using a self hosted CMS script, you just upload 10-200KB to your domain. Since those are mainly flat files, they won't overload the server or require a database on the server. If you decide to move to another hosting company, you just need to upload the blog's files. You won't have to deal with exporting and importing the database, update plugins ...
Because you won't show comments on your blog, this will reduce a lot of comment spam. With MSB, you can optionally allow comments(use a captcha) to be sent by email for a specific post or page. This way, you will interact directly with your readers on a personal level.
You can use MSB to write your offline personal journal by not uploading the generated blog to a domain.
With recent updates, MSB can also be use to write auction sites, landing page sites, small review product specific sites, ... more than just blogging.
See a demo blog that was made using MSB.
More secure since there is no backend that can be hacked
Learn to use FTP software, HTML(posts/pages)
Interact directly with your readers
Use the 8 included themes that you can modify to your taste or get new ones
Search engine friendly out of the box so that your readers can find your blog quickly
Auto-generate the RSS feed and sitemap.xml
Create unlimited blogs
Import text files in a batch to start your blog faster (paid version)
Import your WordPress blog(XML) (paid version)
Free Basic version(1 blog)
Low cost paid version available with free upgrades for life
No spyware or adware
The included themes were donated by NicheMate.Visit them to find other themes and their MSB eBay Plugin!

Note: Disabled items in MSB are only available in the paid version. Use the free basic version to see if you like it or not.

You can watch very short videos to give you a "feel" of MSB from here.

To be popular and save you time, those are the third party tools that we are suggesting and using.

Directory Submitter(free/paid): Submit your blog(s) to directories so that search engines like Google, Yahoo, MSN... find you. The paid option gives you more directories!
Fast Blog Finder(free/paid): Find blogs posting about related subjects you like. The paid option give you more results!


Note: Host Gator or Hostprise($1.25/month) are the only supported host. If you don't have any hosting or searching for a better host, we recommend those.

"Free hosting" offered by some host will often limit you(error management,.htaccess...) or not even support PHP.

Before buying MyStarterBlog, you must download the free version first and test a generated blog on your host. It must support PHP.

The free and registered versions are the same.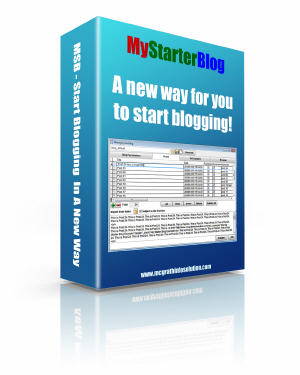 Only $7.00USD!
P.S. We reserve the right to raise the price at anytime and without any warning. We do have plans to raise it later on since add new features often and give you free updates for life.
Open a Free account with AlertPay
or pay with:

Notes:

(1) You can use your PayPal/AlertPay account(free accounts with both) or pay directly with your credit card(PayPal). The PayPal/AlertPay form is in English only.

(2) A serial number key file will be sent to you within 48 hours to the email you used for the payment. But in most cases, it will only take a few minutes.

(3) The full details of the offer will be available to buyers only.

(4) You might get fees from your payment processor.

MyStarterBlog v1.7.0, 9.07 MB, 2009-05-17

Vista users: Make sure you have Full Control to the installation folder. You may have problems since MSB will write files in that folder or when you update the MSB software.
Click on Properties of the folder - Security - Users (computer-name\users) - Edit - Users (computer-name\users) - Full Control( check Allow) - Ok.

To be kept updated about the free version of MyStarterBlog, you can subscribe to the newsletter. You will need to confirmed your email.

Note: If you don't get any email within minutes, check the spam folder. Your email provider maybe too strict thus refusing the email. Using a email from Gmail, Yahoo is acceptable.



Please, download

to uncompress the update(free trial). You may buy it here (one time fee) or for more information
MyStarterBlog Update v1.7.0 update(stable), 752KB, 2009-05-17 (uncompress in the application folder)
(e.g. C:\Program Files\McGrath Info Solution\MyStarterBlog)
nichemate-blue-right-keyword.rar for v1.7.0B2 and above (beta), 749KB, 2009-04-29 (uncompress in the application folder)
(e.g. C:\Program Files\McGrath Info Solution\MyStarterBlog)
Updated Default Theme for v1.6.0+ (update only), 432KB, 2009-03-17 (uncompress in the Theme folder) -
Warning: This will overwrite your current default themes from v1.0 or passed beta. Backup those theme if you changed them.
(e.g. My Documents..\McGrath Info Solution\MyStarterBlog\Theme)
v1.7.0 (2009-05-17)
Add/Change:
Add: In Blog Parameters, You can click on List posts to get a list of the URL of the post. It's mostly for adding bookmarks easier in BMD
Corrections:
- none
Notes:
This is a stable version. The documentation was not updated yet but soon.
v1.7.0b4 (2009-05-04)
Add/Change:
Add: In Blog Parameters - General 2, the Read more text option is available so that other language than English can be used. The default value is still Continue reading with the <!--more-->
Add: [analyticscode] for those using a third party web tracker analysis code. It's should be only added in header.php(after <body> html tag) or footer.php(before the <body> tag).
Add: The system will keep track of the last time the blog was generated. The date is showed at the right of the Generate button.
Add: To better help search engines crawlers, you can add sitemap in the robots.txt. Add this line of code: Sitemap: [siteurl]sitemap.xml
Add: You can configure to new payment processors tags: [paypal] and [alertpay]. Those are global tags. You can enter your emails in Blog Parameters - General 2.
Add: You can configure your ClickBank ID now by using [clickbank]. This one is a global tag. You can enter your ID in Blog Parameters - General 2 Other affiliate networks(no ID) were also added.
Change: The free version allow users to create unlimited blogs.
Corrections:
- none
Notes:
This is a beta version. The documentation was not updated.
A site designer can use [paypal], [alertpay] and [clickbank] to write premade sites and sell them to others. The buyer will then just need to change the value to their own.
v1.7.0b3 (2009-04-29)
Corrections:
- Crashed when using a theme without keyword_main.php
v1.7.0b2 (2009-04-29)
Add/Change:
Add: Keyword categories and theme example.
Corrections:
- none
Notes:
This is a beta version. The documentation was not updated.
This version is to have keyword linking within the post and a page for each keyword used more than 1 time. No keyword page will be generated if a keyword is used once. This is to minimize the number of overall files.
To activate "keyword mode":
The theme must include keyword_main.php, template_main.php will be used to list all the post in the keyword page.
In index_post.php, [postkeyword] is used instead of [metakeywords] when listing the keywords used for the post.
In footer.php and header.php , you can use this 2 new tags: [popularkeyword] and [listallkeyword].
[listallkeyword] can also be added in a extra page if you want it to list all the keywords used in the blog instead of listing them on the side of the blog.
Keywords used once will link directly to the post.
v1.7.0b1 (2009-04-21)
Add/Change:
Add: To go with the upcoming MSB eBay Plugin, France(FR) was added.
Add: Pingler.com was added to the list of ping service you can use
Change: The Save will behave like before(v1.5). But, you will see a new Save button that will be use to select a folder and save the blog.
Change: The default links will not longer be added in the registered version.
Corrections:
- A few minor corrections found where the Theme Folder images had no value before being Generate. This would cause MSB to crashed.

Notes:
This is a beta version. The documentation was not updated.
v1.6.0 (2009-03-17)
Add/Change:
Add: 10 tags([adblock1] to [adblock10]) to replace adblocks.php
Add: In index_page.php and index_post.php, you now have showad, showaff variables. Those are 2 new columns that you can control in the those pages in MSB. Those are accessible in the registered version only.
Add: msbconfig.txt to let you use another folder other than My Documents. You must add a line this line in the text file: datapath:f:\mymsbdata. The file must saved in the folder where mystarterblog.exe is located.
Add: When you save a blog, you can select the folder. This is for those that want to group types of blogs in sub folders.
Add: Except for the basic theme files, extra files will be copied automatically when you generate a blog. Each extra file will be read and global tags will be replaced at the same time.
Add: To reduce duplicate content(www and non www), the tag [www-non-www] is now available in htaccess. If you use a subdomain, just check the new Subdomain option and the value of the tag will be empty. Otherwise, the Blog URL will be used to determine what is the prefered way for a domain.
Change: Import WP(xml) has now it's own parameter page for later uses.
Change: the default value for the theme images folder is now "images"
Corrections:

- A few minor corrections found.


Notes:

This is a stable version. This version main goal was to use generic name for most files.

If you want to convert an old theme to a new theme, here what you should know. Please, look at the new themes to help you understand the modifications better.

1. headertop.php is still a file but a new tag[headertop]. Use the tag in this file: about.php, archive.php, contact.php, index_main.php, index_page.php, index_post.php, privacy.php.

Before

<? include('headertop.php'); $pagetype = "other"; ?>


After

[headertop]
<? $pagetype = "other"; ?>


2. recentpost.php, blogpage.php, links.php are no longer used(delete them). They were replaced with those tags: [blogpage] [recentpost] [links]. You can find them in footer.php and header.php

3. blog_rss.xml was rename to rss.xml

4. allowcommentbox.php is a new file that's also a tag([allowcommentbox]). It will be used in index_page.php index_post.php. Also, [pagecleantitle] and [postcleantitle] tags are no longer used.

Operating System:

Windows XP Service Pack 2, Windows Vista, Windows 2003(not tested)
Processor: Pentium III 1.0 GHz or AMD Athlon 1.0 GHz
Memory: 128 MB minimum
Hard disk space: 25MB
Video: 800X600


An Internet connection is a requirement. Your host must support PHP.