Attention: You cannot use an external link to download this file but you are invited to point to this page.
Key Benefits Download What's new Requirements
Current version: 0.9.0 (2005-11-02)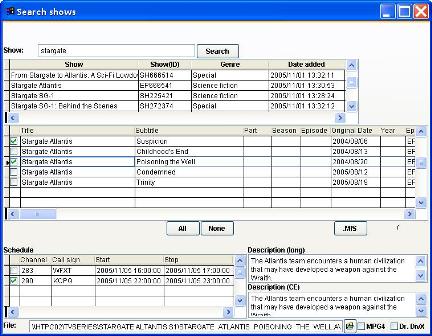 The TV 2 MIS (T2M) will take the TV listing generated from XMLTV (v0.5.40) to create it's own local database. After that, you select your recorded shows/movies to create a .MIS (it creates automatically around 90% of the information that you won't have to write yourself) or you can simply do a search for a movie/show. We suggest that you use Info2MIS for even more information about your movies.
Consultation offline when no internet connection is available or possible
Creates easily an .MIS (Description, Codec (.AVI information))
FREE, No spyware or adware
TV 2 MIS V0.9.0, 8.1 MB, 2005-11-02
v0.9.0
Add/Change:
The primary goal of this version is to create a .MIS of your recorded movies/shows. You should keep the .XML (e.g. GuideYYYYMMDD.XML) If you want to be able to track shows (available in a future version) as the database is not final(v0.9.0) and might not be compatible (other grabbers features).
Support the following grabber: tv_grab_na_dd. (We will support other grabbers. Contact us first to summit a grabber sample file.
Will convert Part 0/2, 1/2 with 1/2, 2/2
Correction:
Note:
Some of the links within the application might not work, add .htm at the end of the link
Operating System: Windows XP Service Pack 2
Processor: Pentium III 1.0 GHz or AMD Athlon 1.0 GHz
Memory: 128 MB minimum
Hard disk space: 25 Mo of free space
Video: 800X600
Input: Keyboard and Mouse