Attention: You cannot use an external link to download this file but you can point to this page.
Key Benefits Donation Download What's new Requirements
Get updated news and more (Tech, Reviews, Entertainment...) about our products on the Blog
Current version:
| | | |
| --- | --- | --- |
| Name | Version | Date |
| MIS Info Video | 2.7.0 | 2007-07-24 |
| Profile Manager | 2.6.0 | 2007-04-26 |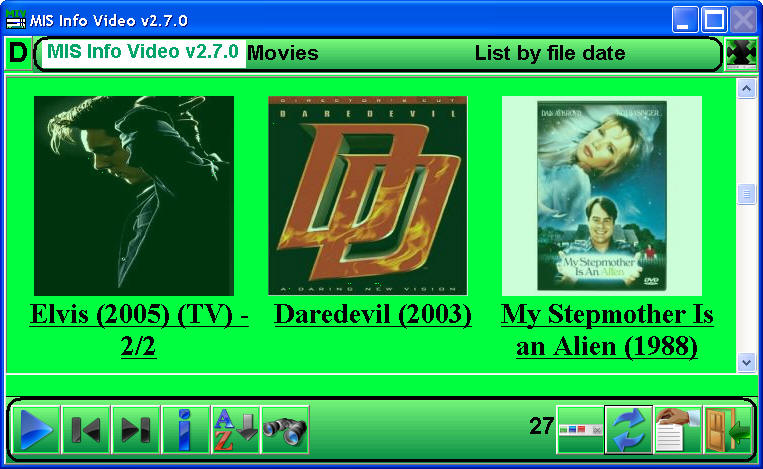 More screens
Free media player: Play DVD, AVI, MP3, MPEG or view pictures (JPG, TIF, GIF, PNG, BMP) files, manage and obtain information about a media file using the MIS specification (subtext, chapters, URL...), .NFO or .TXT. It also give you the possibility to resume a media (video/audio), a 10-foot onscreen TV interface, parental control with a .MIS, sorting, profiles, work like a regular player (no profile needed), English/French ...
Use Info2MIS (included) to give your pictures, home movies, inventory ... in-depth information (who's in, location, price paid...) thus making it easy, for example, to find a love one pictures. Use Info2MIS to create a .MIS 2 clicks for a movie
Support password, parental control
Can resume playback where you last stop it (support multi user and the .MIR specification)
Search credit name on imdb.com
Option to hide the date when resuming
Enter an alternate name when resuming a second time (mostly for computers with one user account)
View your pictures (JPG, TIF, PNG, BMP, GIF)
7 ways to navigate your media files
Assign a default picture for each folders or each file without a previously assigned picture. Perfect for albums, TV series, theme folders ...
Fully support the FOLDER.MIF
Support more .MIS tags (purchase-ymd, estimate-price, warranty-ymd...) thus starting your own basic inventory system
Support for other extension (no playback): ISO, IMG, AMZN (Amazon Unbox)
Search for a word in the title or .MIS
Let you play (1, 2) (DVD, AVI, WMV, MPEG 1/2, MP3, WMA, WAV, ASF, TS) and displays more types
Acts like a regular media player without the need to create a profile
10-foot onscreen TV interface
Support .MIS chapters, subtexts
Manage more than 1 million titles per profiles
Profile Manager Program to better organize your profiles
Mini Web browser for the URLs within a .MIS
Sort by original date, title, folder, file extension ...
Create a .TXT from a .MIS
Launch and play the VIDEO_TS.IFO(DVD) on your hard drive (2)
12 Color scheme(6 gradient, 6 normal)
Take snapshots of a video media
Organize all of your video files with the help of a profile
Resize to the screen resolution
Configure your favorite video player
Support network drive
English and French support
No spyware or adware
(1) Need a DVD decoder
(2) Need the appropriate decoders
Make your next DVD of movies ....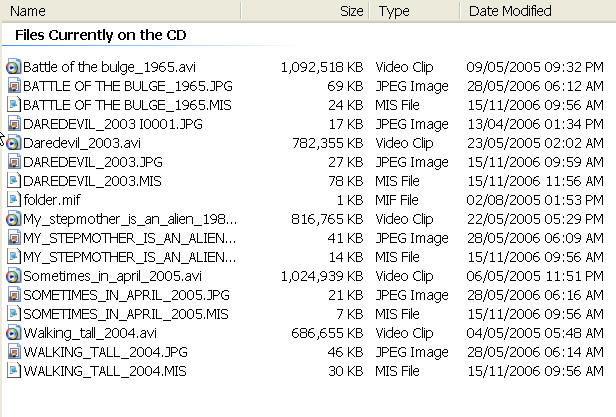 look like this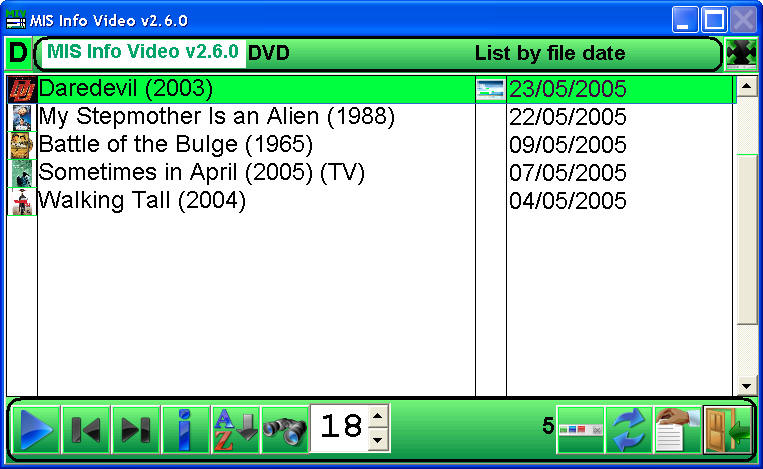 Imagine if a regular DVD player could read a .MIS!
Take the tour!(Flash)
To allow you to check the integrity of the file, here are the MD5 sum of the latest release:
MIS Info Video
For US only
For International users only
For US and International users(alternative)
MIS Info Video (here) v2.7.0, 10.9 MB, 2007-07-24
MIS Info Video v2.7.0, 350KB, 2007-07-24
NOTE: Remove all previous version (beta, v1.x, v2.x)
MD5: 259A791EE9137978FEF3B37E8A641EE3
Please, download

to uncompress the update. You may buy it here or for more information

MIS Info Video v2.7.0 update, 1.6 MB, 2007-07-24 (For v2.7b1 only, uncompress in the application folder)

(e.g. C:\Program Files\McGrath Info Solution\MIS Info Video)

MD5: 9DD01504940BEAEC306FE18A378242C9

MIS Info Video is available on (click the image):

Find it useful, make a donation

1 Cool file (download site) is part of McGrath Info Solution

i2mfan.com (our other site with .MIS examples)

v2.7.0 (2007-07-24)

Add/Change:
Add: Support the MIS Specification v1.2000. All URL tags are now 200 characters. This will help in supporting tv.com longer URL
Add: Added the following value to content-type in the File Specification section: URL (18), Blu-Ray(100011), HD-DVD (100012)
Add: In the

Main page

, 1 new way to display your media files: Thumbnail. Clicking on the picture or the link will go to the information page. 3 columns will be shown.
Change: Added the application Info2MIS with it's own folder. This will make it simpler to create a .MIS to be used with MIS Info Video
Change: The blog button will now go to www.misfan.com for the latest news instead of going to Steve's Tech Blog by default. Right-Click will still go to Steve's Tech Blog.
Correction:
Fix many bugs concerning from the beta Thumbnail display mode
Display the full size of the files(CD1, CD2) when using Picture and information 2
Fixed many minor troubles
Notes:
The Thumbnail display mode now use the mivmedia00.css file.
Operating System: Windows XP Service Pack 2, Windows Vista, Windows 2003(not tested)
Processor Memory: 128 MB minimum
Hard disk space: 25 MB of free space
Video: 800X480
Graphic: Latest DirectX 9 and video drivers (not the basic one), Windows Media Player 9/10
Input: Keyboard and Mouse